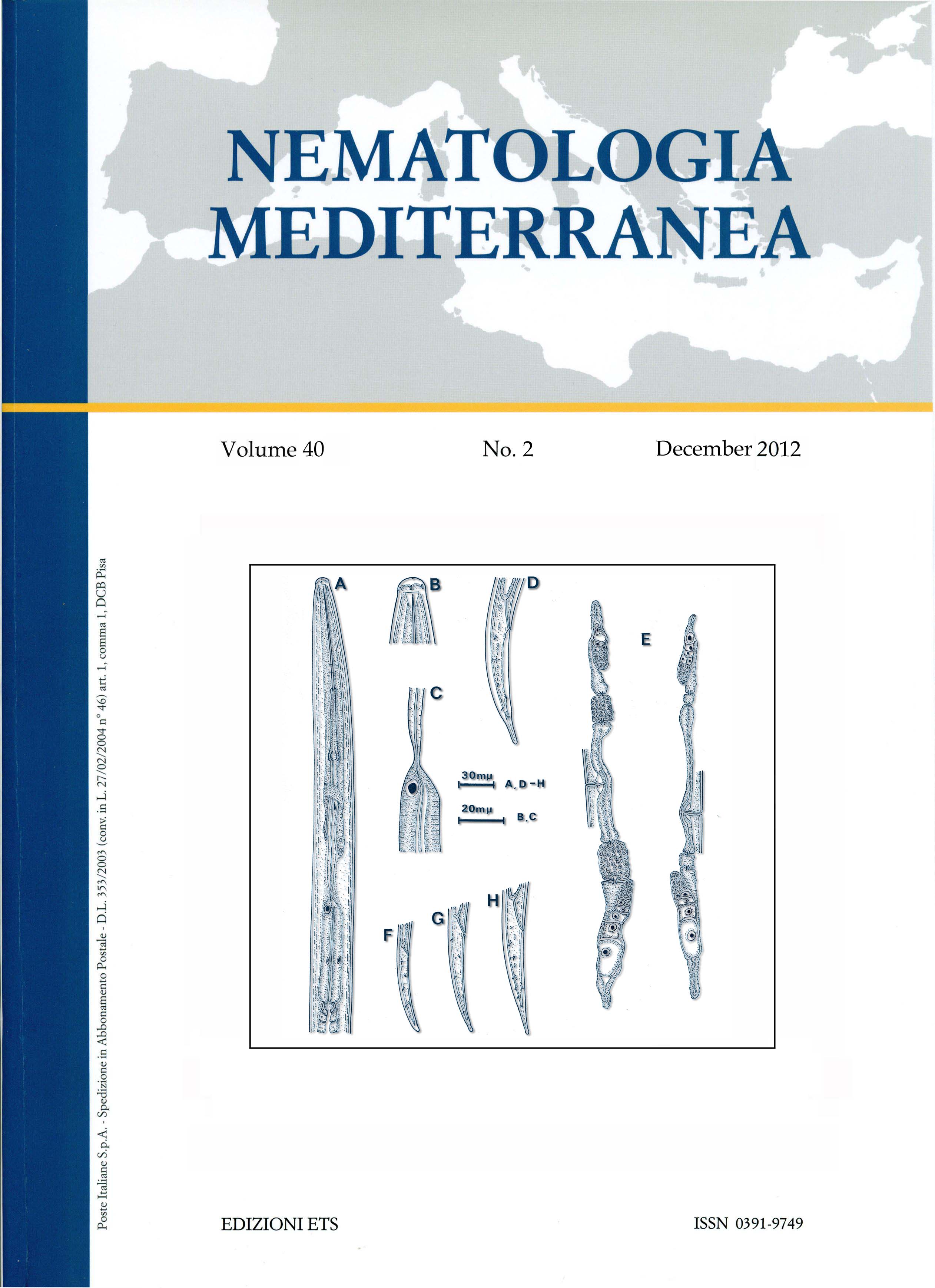 Vol. 40, N. 2 - December 2012
Cover plate
Drawing of Xiphinema mounporti sp. n. For more information see article by Faye et al.
---
The Journal
NEMATOLOGIA MEDITERRANEA, a scientific journal founded by Prof. Franco Lamberti in 1973, is a nonprofit publication of the Istituto per la Protezione delle Piante (IPP) - Sect. of Bari of the C.N.R. (formerly Istituto di Nematologia Agraria Applicata ai vegetali), and deals with nematological problems covering many related aspects such as:
Biology
Taxonomy
Ecology
Biochemistry
Chemical and Biological Control
Host plant resistance
Integrated pest management
Nematicide application technology
Crop rotation and agricultural practices
Nematicide application and environmental impact
The first issue was published in June 1973 and since then it has been published regularly twice a year in June and December.
The last volume (Vol. 40) was published in 2012. Issue 1 (official publication date: 30 June 2012) and Issue 2 (official publication date: 30 December 2012).

Nematologia Mediterranea is covered in the Thomson Scientific products and services and is indexed by Biological Abstracts, BIOSIS and Zoological record.
The journal is also abstracted in C.A.B. Nematological Abstracts and indexed on this Web site.
---
Features of the Journal
Scientific articles that report on original researches.
Technical reports: articles relating to new technical developments and approaches in the study of Nematology.
Short communications: brief articles dealing with subjects that do not require long discussion, such as indications of the occurrence of important nematodes in regions where they had not been previously observed, or the discovery of new hosts for plant parasitic nematodes.
Review articles: comprehensive review of current knowledge in various disciplines of the plant protection sciences with particular reference to Nematology.
Abstracts: symposia and meetings, in consultation with the Editors.
---
Call for Papers
Authors are invited to submit papers that correspond with the scope and topics of the journal.
Articles, written in English, French, Italian, Portuguese or Spanish, should be submitted to Dr. Nicola Greco, at the above cited address, preferably as e-mail attachments. Each one should be accompanied by a summary written in the same language, but an english summary is also required if this is not the article language.
Articles will be accepted subject to approval by the Editorial Board who will refer to specialists as required.
The contact author will receive 50 reprints free of charge.


---

Other Nematology Journal on the Web